Do you know Hoa Trung Lake (HT lake)? or have you ever heard about this place when mentioning of Da Nang City?
Speaking of Da Nang tourism, perhaps people will immediately think of the poetic, lyrical beaches as beautiful as paradise, luxurious resorts or large international-class amusement parks.
However, Da Nang is not only that. This beautiful city still contains many new and interesting destinations that few people know. One of them is Hoa Trung Lake in Da Nang.
This place is likened to a picnic and camping paradise, captivating visitors by its wild and peaceful beauty that makes you surprised.
This is a small artificial lake, with an area of only about 2 km2, built by the city government for the purpose of providing domestic water as well as irrigation for the residents of these two communes.
But no one would have expected that a seemingly ordinary place would become a super hot tourist and picnic destination for young people when traveling to Da Nang.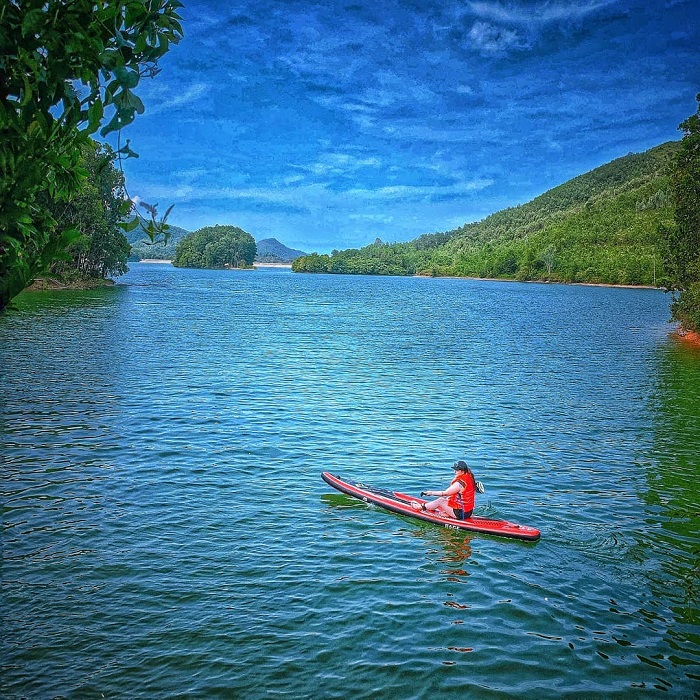 When should you visit Hoa Trung Lake in Da Nang?
HT lake is still likened to a "miniature plateau" in the heart of Da Nang. To be able to enjoy great experiences to the fullest, you need to choose the right time to go.
According to the travel experience of HT lake in Da Nang, the most ideal time to explore this place is around September, October every year. This is the dry season, the green grass appears, the lake is calm, the sky is high.
All combine to create a natural masterpiece that makes every travel believer flutter.
How to get to Hoa Trung Lake?
Hoa Trung Lake is located only about 20km from the center of Da Nang city. You can move here by many different means of transport such as motorbikes, cars, taxis.
However, to make the trip more active and interesting, you should choose a motorbike. You can easily rent a car in the city with prices ranging from 100,000 VND to 150,000 VND / day. The way to Hoa Trung lake is as follows:
Starting from the city center area, you move along the Dien Bien Phu route, go through Hue's Nga Ba overpass, continue running along the Ba Na – Suoi Mo route or turn onto Nguyen Tat Thanh street, then turn on Hoang Van Thai Street and follow National Highway 1A to Hoa Trung Lake.
Ticket price for Hoa Trung lake Da Nang
Quite a lot of visitors wonder how much is the ticket price of Hoa Trung lake. However, in this regard, you can rest assured because this is a public destination with no fees.
Done, if you want to rent a boat to visit the lake or rent a camping tent here, you will have to pay a small fee.
Boat rental is about 20,000 VND/person and tent rental is about 200,000 VND/ tent of 6 people.
Interesting experiences not to be missed when traveling to Hoa Trung Lake in Da Nang
Immerse yourself in the fresh natural space
As soon as you arrive at Hoa Trung Lake in Da Nang, you will be amazed by the majestic and poetic natural scenery and the fresh and cool atmosphere of this place.
What could be more wonderful when after stressful working and studying days, we can immerse ourselves in the poetic nature, listen to the birds chirping.
All the fatigue and stress of life seems to disappear. You will have more positive energy to continue conquering the goals ahead.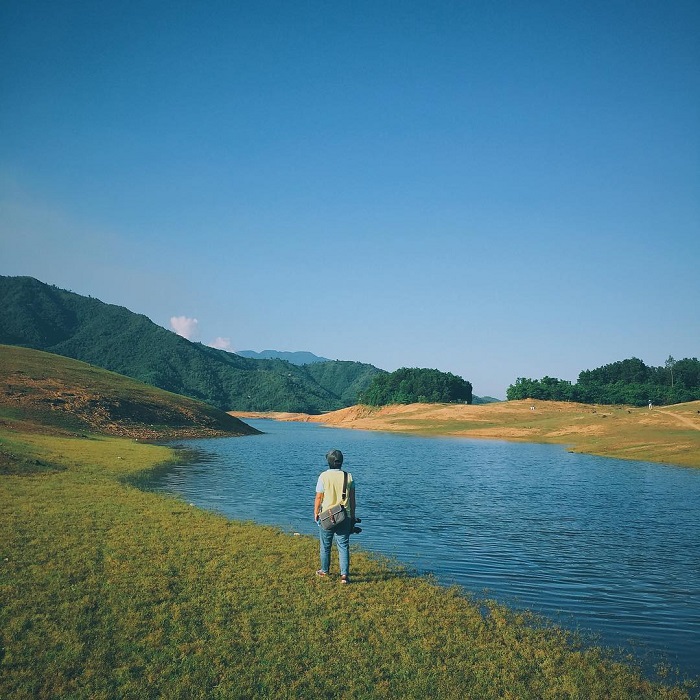 Boating on the lake
One of the experiences that many people love when traveling to Hoa Trung Lake in Da Nang is rowing a boat to visit the lake.
Here, there is a service of renting a dugout boat with the price of only about 20,000 VND / person.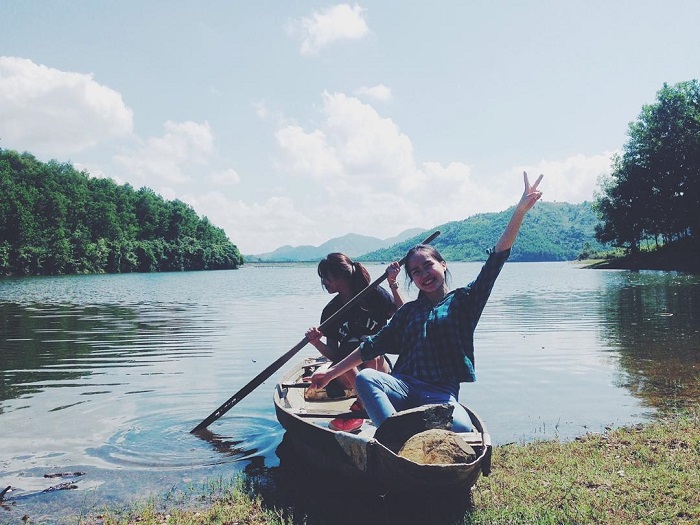 Being able to control a small wooden boat with your own hands, surfing on the calm lake will definitely be an extremely wonderful experience.
You will have many opportunities to immerse yourself in the fresh nature and enjoy the picturesque scenery of Hoa Trung Lake.
Overnight camping
Going to Hoa Trung Lake and skipping outdoor camping activities is extremely regrettable.
The vast, flat green lawn by the lakeside will be a great place for you to pitch a tent and rest.
You can also bring food and cooking utensils from home to organize interesting outdoor BBQ parties.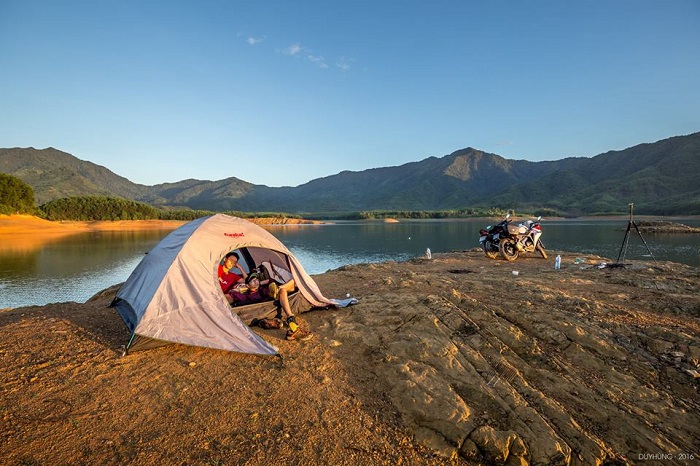 Enjoy virtual life
Hoa Trung Lake Da Nang, although it is an artificial lake, possesses a poetic, lyrical beauty that fascinates people.
This place is not invested in construction like many other resorts, nor does it have elaborately decorated miniatures, but it is still an extremely virtual living background for visitors.
You just need to wear beautiful outfits, pose a little, and you can immediately pocket beautiful check-in pictures.
Some things you need to note when traveling to Hoa Trung Lake in Da Nang
You should come here in the early morning or warm sunny afternoon to fully feel the beauty of HT Lake.
If camping overnight, do not forget to bring a thin jacket, blanket, etc. because at night, the weather here is also quite cold.
Limit travel to this lake in the rainy season, because the water is very full at this time, covering the grass on both banks and it is difficult to find a camping site.
Do not forget to bring sunscreen, insect spray to protect yourself.
This lake has no manager. So in the process of playing here, you need to be conscious of keeping the surrounding environment clean, absolutely do not litter indiscriminately and set fires around.
Hoa Trung Lake – a wild place few people know but possesses extremely charming beauty, making all visitors fall in love. Hopefully the above experiences will help you have an enjoyable and memorable experience.
Short video of Hoa Trung Lake
If you find this article useful, you can save and share with your friends. And do not forget to connect with us on Facebook page: Vietnam Travel Notes
More popular destinations of Vietnam can be found at Vietnam Travel Notes